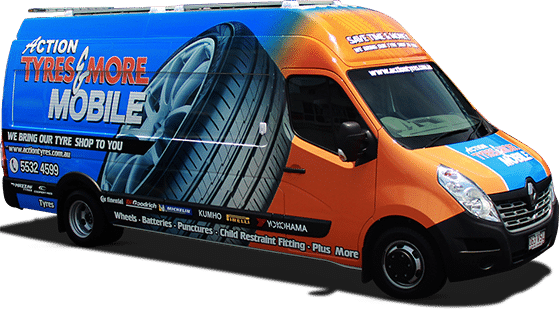 Time is a most valuable asset these days. Any down-time that can be spent with your friends & family is something highly valued, so it is not surprising when a new & exciting Mobile Tyre Service operation opens up on the Gold Coast with an offer to bring their tyre shop to you, that it will be noticed.
Action Tyres & More, is a locally owned & operated family business in Southport. They have been servicing the needs of the local market since 2002. Recently through discussions with their wide customer base, they found a need to expand their business & offer their customers a touch more.
"We have listened to our clients' needs and have come up with an exciting new mobile service concept where we bring our tyre shop to you. This is a very convenient service for all sorts of people from stay at home parents, retirees, busy professionals, shift workers, tradies and fleet companies to name a few", advised Matt Kingsley from Action Tyres & More.
"The key to providing any new service like this was we needed to ensure we offer the same efficient, friendly service you experience at our store. So now you have the option that we can also come to your location, if you choose, saving you time and money" Kingsley advised.
"Our new Tyres & More mobile van is state of the art in design and most importantly is Eco Friendly. The Mobile Van runs solar power to operate the machinery, and the aim is to achieve a zero target level of efficiency for the supply of power. We also provide nitrogen tyre filling, which ensures less tyre pressure leakage, offering longer tyre mileage and better fuel economy along the way. To date the interest in this new level of service level is really exciting, so why not give us a try."
Action Tyres & More can be contacted on 07 5532 4599.